Artesia Indian Lunch Buffets
Artesia, Cerritos and Norwalk Indian restaurants are big on buffets.
It's rare to find an Indian restaurant on Pioneer Blvd in
Little India
that does not offer a lunch buffet.
Artesia Indian buffets come in various forms from North Indian, Gujarati, Punjabi, Rajasthani, South Indian to Indian-Chinese cusines.
An Indian lunch buffet is not a sumptuous affair like a Chinese buffet but better value than an
a la carte
meal.

An Indian Buffet Counter
Buffet - Ideal Option
Whether you're a newcomer or a veteran, the best route to Indian cuisine is via a buffet.
Indian buffets not only provide an opportunity to taste a variety of vegetarian and meat items but also offer excellent value for money.
Most Artesia Indian restaurants like their counterparts in Los Angeles serve all you can eat buffet for lunch and
a la carte
menu for dinner.
Rare is the Indian restaurant that offers buffet for dinner.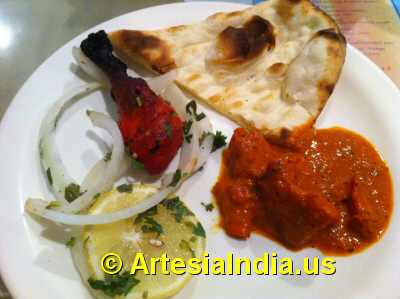 Tandoori Chicken, Butter Chiken & Naan
Pricing and Items
Artesia Indian lunch buffets are usually priced from $8.99 to $10.99.
And the buffet price goes upto $14.99 during weekends.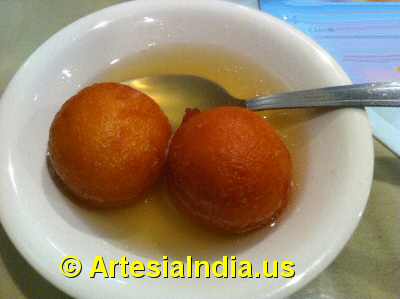 Gulab Jamun - Typcal Buffet Dessert
Artesia Indian buffets usually include a range of items from appetizers like Pakora, Medhu Vada, Samosa, Paapri Chaat and Tandoori Chicken plus entrees like Chicken Tikka Masala, Fish Curry, Palak Paneer, Dal Makhani, Chicken Biryani, Goat Curry, entrees, Gulab Jamun, Gajar Halwa, Rice Pudding, Fruit Custard desserts and naan bread and rice dishes.
Here are a few Indian restaurants on Pioneer Blvd in Artesia that offer buffets:
Apna Dhaba

18413 Pioneer Blvd Artesia, CA 90701

Ph:562-865-3838

Daily Lunch Buffet: 11AM-4PM

Ashoka the Great

18614 Pioneer Blvd Artesia, CA 90701

Ph:562-809-4229

Daily Lunch Buffet: 11AM-3PM

Dosa Lite

11688 S St, Ste 107 Artesia, CA 90701

Ph:562-860-3999

Daily Lunch Buffet: 11AM-3PM

Kabob Corner

18728 Pioneer Blvd Artesia, CA 90701

Ph:562-809-4455

Daily Lunch Buffet: $8.99



Mezban Biryani Palace

18621 Pioneer Blvd Artesia, CA 90701

Ph:562-865-3838

Daily Lunch Buffet: 11AM-4PM

Pickles Indian

11688 South St, Ste 107 Artesia, CA 90701

Ph:562-860-3999

Daily Lunch Buffet: 11:30AM-3PM

Rasbhog

18511 Pioneer Blvd Artesia, CA 90701

Ph:562-924-1672

Punjabi, Rajasthani, South Indian Lunch Buffet

Tangy Tomato

18792 Pioneer Blvd Artesia, CA 90701

Ph: 562-809-8181

Daily Lunch Buffet: 11AM-3PM

The India Restaurant

17824 Pioneer Blvd Artesia, CA 90701

Ph:562-860-5621

Lunch Buffet: Mon-Fri: 11AM-3PM Sat & Sun:11AM-3:30PM

Turmeric Indian Buffet

17631 Pioneer Blvd Artesia, CA 90701

Ph:562-402-7990

Daily Lunch Buffet