Artesia Vegetarian Indian Restaurants
When it comes to Indian restaurants serving vegetarian only food, Artesia offers rich choice.
Some Indians due to religion, caste or palate may be unwilling to dine at restaurants that serve both meat and vegetarian items.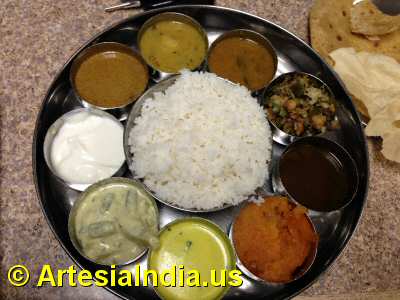 South Indian Thali
There are several Indian restaurants on Pioneer Blvd in Artesia that peddle Gujarati, South Indian, Punjabi, Rajasthani vegetarian food, snacks, Chaat, tiffins and mirhai items.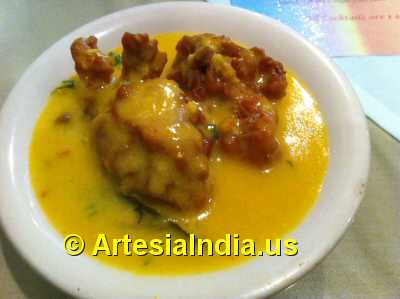 Kadi Pakora
Whether you're yearning for Gujarati Dhokla, Punjabi Kadi Pakora, South Indian Thali, Masala Vada or Samosa Chaat, you get them all and more at Artesia vegetarian Indian restaurants.
Most vegetarian Indian restaurants on Pioneer Blvd offer Thalis and a la carte menu.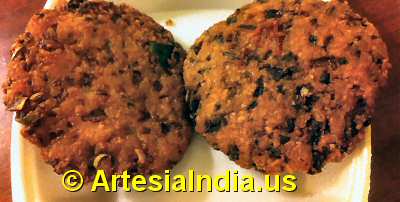 Masala Vada
Besides, the ubiquitous South Indian thali, there are a few restaurants in Artesia that offer Gujarati, Kathiawadi and Punjabi vegetarian thalis as well.
If you have a craving for Chaat (Indian street food), Artesia is the place to go.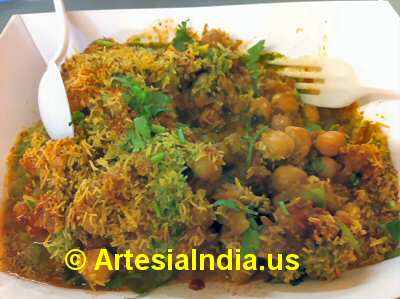 Samosa Chaat
Here are a few Indian restaurants on Pioneer Blvd in Artesia that offer vegetarian Indian food including Chaat:
Bhimas Vegetarian

18748 Pioneer Blvd Artesia, CA 90701

Ph:562-860-5678

South Indian Thali, Dosas etc

Dosa Lite

11688 S St, Ste 107 Artesia, CA 90701

Ph:562-860-3999

Vegetarian Buffet & Dosas

Jay Bharat

18701 Pioneer Blvd Artesia, CA 90701

Ph: 562-924-3310

Gujarati, Kathiyawadi & Punjabi Thali

Mumbai Ki Galliyon Se

17705 Pioneer Blvd Artesia, CA 90701

Ph:562-860-6699

Chaats and Mumbai Street Food

Rajdhani

18525 Pioneer Blvd Artesia, CA 90701

Ph:562-402-9102

Gujarati Vegetarian Thali



Rasbhog

18511 Pioneer Blvd Artesia, CA 90701

Ph:562-924-1672

Vegetarian Buffet & Thali

Rasraj

18616 Pioneer Blvd Artesia, CA 90701

Ph:562-809-3141

Chaat, Dosa, Farasan, Sweets

Tirupathi Bhimas

18792 Pioneer Blvd Artesia, CA 90701

Ph:562-809-3806

South Indian Thali, Mini Tiffin


Udupi Palace

18635 Pioneer Blvd Artesia, CA 90701

Ph:562-860-1950

South Indian & Udupi Thali, Dosa, Mysore Coffee