Indian Restaurants in Artesia
Divine Indian Food
The best reason, perhaps the only reason, to visit
Pioneer Blvd
in
Artesia
is to feast on curries, Hyderabad Dum Biryani, Masala Dosa, Gobi Manchurian, sweets etc. at one of the many Indian restaurants lining the street.
With several varieties of cuisines, Indian restaurants on Pioneer Blvd caters to all Indian tastebuds, be they from the South, North, East or West.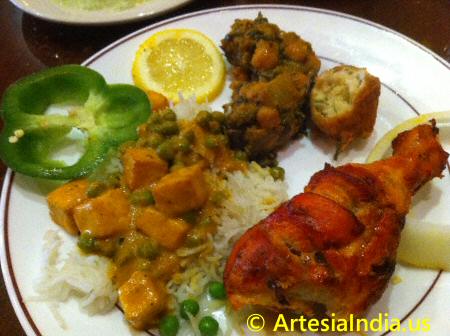 Tandoori Chicken, Mutter Panner, Pakora
Samosa Chaat, Hyderabad Dum Biryani, Masala Dosa, Palak Paneer, Tandoori Chicken, Chicken Manchurian, Lamb Biryani, Gujarati Thali, oh, the choices are truly endless at Artesia Indian restaurants.
If you have a sweet tooth, there are a bunch of
mithai
shops like Ambala Sweets, Sukhadia's and Rasraj where you can indulge till you belch.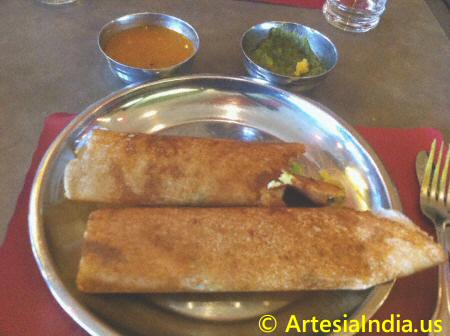 Masala Dosa, Chutney, Sambar
Come weekends, you can see Indians getting down from their BMW, Lexus, Toyota Camry and Honda Accord cars to stuff themselves at the Indian restaurants and sweets stores in Artesia.



Ashoka

18614 Pioneer Blvd
Artesia, CA 90701


Ph: 562-809-4229




Ambala Dhaba

17631 Pioneer Blvd
Artesia, CA 90701


Ph: 562-402-7990
South Indian Food




Udupi Palace

18635 Pioneer Blvd
Artesia, CA 90701


Ph: 562-860-1950




Tirupathi Bhimas

18792 Pioneer Blvd
Artesia, CA 90701


Ph: 562-809-3806




Woodlands

11833 Artesia Blvd
Artesia, CA 90701


Ph: 562-860-4000




Paradise Biryani Pointe

18158 Pioneer Blvd
Artesia, CA 90701


Ph: 562-666-2334




North Indian & Gujarati Food




The India Restaurant

17824 Pioneer Blvd
Artesia, CA 90701


Ph: 562-860-5621




Mumbai Ki Galiyon Se

17705 Pioneer Blvd
Artesia, CA 90701


Ph: 562-860-6699




Rajdhani

18525 Pioneer Blvd
Artesia, CA 90701


Ph: 562-402-9102




Surati Farsan Mart

11814 E.186th St
Artesia, CA 90701


Ph: 562-860-2310